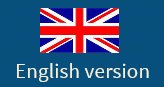 De oude HMS Diamond – H22 D-class destroyer

Deze oude HMS Diamond was een D-class destroyer in de vroege jaren-30 gebouwd voor de Britse Koninklijke Marine. Het grootste gedeelte van haar carrière bevond het schip zich op station in China. In 1939 werd zij kortstondig toegevoegd aan de Middellandse Zee vloot, daarna was ze actief in West Afrika (begeleiding van konvooien. In 1940 keerde HMS Diamond terug ze terug bij de Middellandse Zee vloot alwaar ze hoofdzakelijk konvooien begeleidde van en naar Malta. Het schip nam in november-1940 deel aan de Slag bij Cape Spartivento. Tijdens "Operatie Demon" werd HMS Diamond door Duitse vliegtuigen voortdurend gebombardeerd en op 27 april 1941 tot zinken gebracht. Bijna alle, uit Griekenland geëvacueerde, geallieerde troepen overleefden deze aanval niet.

HMS Diamond – H 22 displaced 1,375 long tons (1,397 t) at standard load and 1,890 long tons (1,920 t) at deep load. This D-class war ship had an overall length of 329 feet (100.3 m), a beam of 33 feet (10.1 m) and a draught of 12 feet 6 inches (3.8 m). She was powered by Parsons geared steam turbines, driving two shafts, which developed a total of 36,000 shaft horsepower (27,000 kW) and gave a maximum speed of 36 knots (67 km/h: 41 mph). Steam for the turbines was provided by three Admiralty 3-drum water-tube boilers. Diamond carried a maximum of 473 long tons (481 t) of fuel oil that gave her a range of 5,870 nautical miles (10,870 km: 6,760 mi) at 15 knots (28 km/h: 17 mph). The ship's complement was 145 officers and men.
The ship mounted four 45-calibre 4.7-inch Mark IX guns in single mounts. For anti-aircraft (AA) defence, Diamond had a single 12-pounder (3-inch (76.2 mm)) gun between her funnels and two 40-millimetre (1.6 in) QF 2-pounder Mark II guns mounted on the side of her bridge. She was fitted with two above-water quadruple torpedo tube mounts for 21-inch torpedoes. One depth charge rail and two throwers were fitted; 20 depth charges were originally carried, but this increased to 35 shortly after the war began.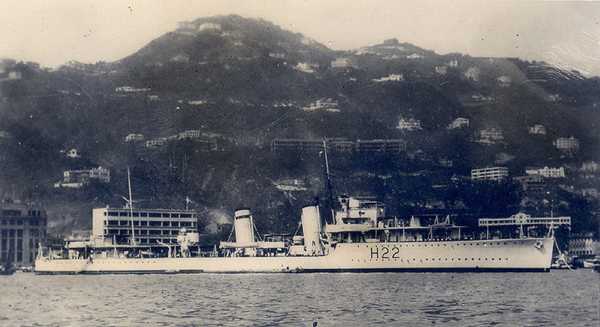 De oude HMS Diamond in Hong Kong – 1938
Diamond was ordered on 2 February 1931 under the 1930 Naval Estimates, and was laid down at Vickers-Armstrong's yard at Barrow-in-Furness on 29 September 1931. She was launched on 8 April 1932 and completed on 3 November 1933, at a total cost of £223,509, excluding equipment supplied by the Admiralty, such as weapons, ammunition and wireless equipment. The ship was initially assigned to the 1st Destroyer Flotilla in the Mediterranean and made a brief deployment to the Persian Gulf and Red Sea in September–November 1933. Diamond was refitted at Devonport Dockyard between 3 September and 27 October 1934 for service on the China Station with the 8th (later the 21st) Destroyer Flotilla and arrived there in January 1935, where she remained for the next four years.
The ship began a refit at Singapore on 7 August 1939 and she was transferred to the Mediterranean Fleet after it was completed in November. Diamond arrived at Malta on 19 December, but she was transferred to the South Atlantic Station the following month. She departed Malta on 8 January 1940, bound for Freetown where she joined the 20th Destroyer Division for escort duties. In April the ship returned to the Mediterranean where Diamond was assigned to the newly formed 10th Destroyer Flotilla after a short refit at Malta.
She was slightly damaged by air attacks on 11 and 17 June near Malta after the Italians declared war on the Allies on 10 June. Together with her sisters Dainty, Defender, the Australian destroyer Stuart, and the light cruisers Capetown and Liverpool, she escorted Convoy AN.2 from Egypt to various ports in the Aegean Sea in late July. Diamond bombarded the Italian seaplane base at Bomba, Libya on 23 August. A week later she escorted four transports to Malta with Dainty and the destroyers Jervis and Juno as part of Operation Hats. The ship escorted Convoy MB.8 during Operation Collar. After reaching Malta on 26 November, Diamond joined Force D and sailed to rendezvous with Force H, coming from Gibraltar. The next day, after the British forces had combined, they were spotted by the Italians and the inconclusive Battle of Cape Spartivento was fought.
During Operation Excess, Diamond and Defender escorted Convoy MW.5 to Malta in January 1941. The ship escorted a convoy of four freighters from Malta to Alexandria in mid-April. Shortly afterwards, she began evacuating Allied troops from Greece. On 27 April 1941, HMS Diamond and another destroyer, HMS Wryneck, rescued over 500 troops from the sinking Dutch troopship, ss Slamat, and set out for Crete. However, both ships were attacked and sunk about four hours later by German Messerschmitt Bf 109 fighters and Junkers Ju 88 bombers. Only one officer, 41 enlisted men and eight soldiers from all three ships were rescued.
COMMANDER, CAPTAIN IAN CLARKE VAN DE BRITSE KONINKLIJKE MARINE HERDENKT DE RAMP IN 1941 MET HET HMS DIAMOND, HMS WRYNECK EN ss SLAMAT.
MIDDELLANDSE ZEE: TEN NOORDEN VAN KRETA (GRIEKENLAND) – 26 juni 2012, 06.00 uur
PERSBERICHT
Dit persbericht voor de Nederlandse media is samengesteld door Josje van Lierde-Olivier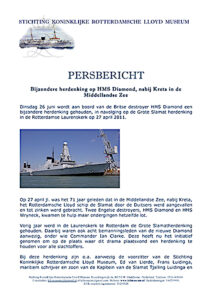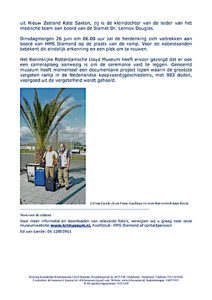 Panoramafoto – Arend Schmale
WAAR HET OP 27 APRIL 1941 GEBEURDE …..
In het geel is de route van de nieuwe HMS Diamond naar het graf van de opvarenden van de HMS Diamond (1941) weergegeven.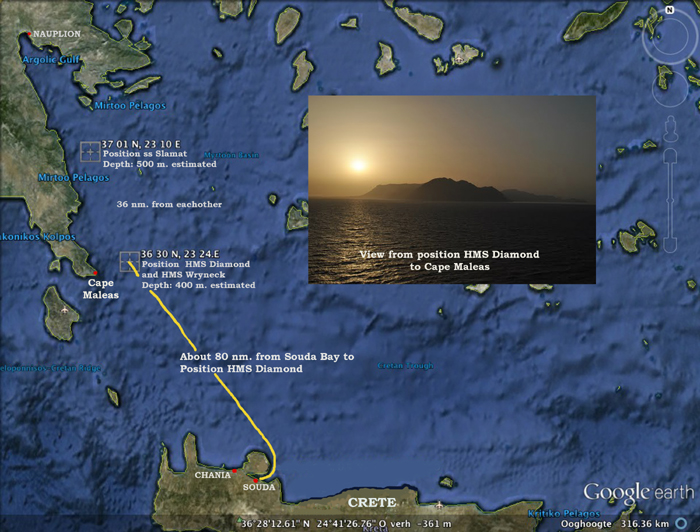 HERDENKINGSDINER AAN DE VOORAVOND VAN DE CEREMONIE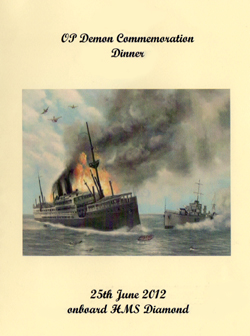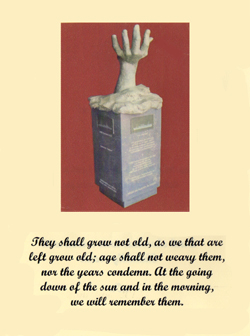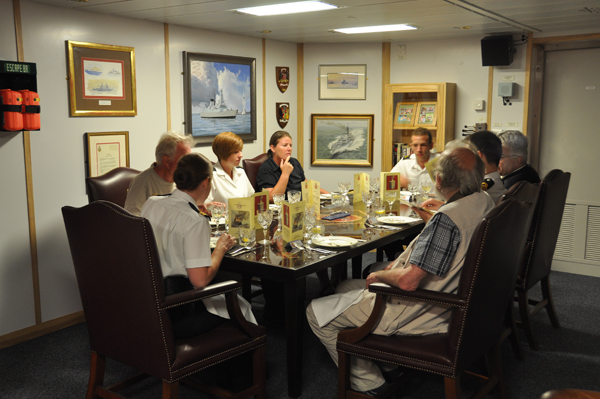 Het 'Operatie Demon'- diner met van links, rechtsom naar rechts: Luitenant Allen, Arend Schmale, Onderofficier Berry, Kate Saxton, Matroos Barnes, Ed van Lierde, Commander Ian Clarke en Frans Luidinga.

THE MEDITERRANEAN-CEREMONY ………. A VERY EMOTIONAL COMMEMORATION




Victims of the British D-class destroyer (H-22): HMS DIAMOND
DIAMOND-bemanning: 186 , slachtoffers: 166, overlevenden: 20.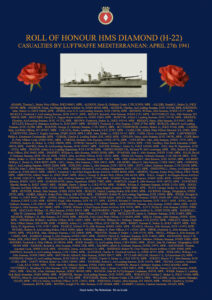 De officieren staan om 6 uur in het gelid ……

Foto- Kate Saxton

evenals de onderofficieren en matrozen

Foto- Kate Saxton

De bemanningsleden die aan de Slamatherdenking-2011 hebben meegedaan, stonden op een ereplek.

Foto- Kate Saxton

De 'Chaplain' neemt nog even alles door met een onderofficier.

Foto- Kate Saxton

Het ceremoniepamflet in de handen van een matroos

Foto – Matthew Jackson (MOD media)

Een ontroerde matroos volgt de ceremonie ….

Foto – Matthew Jackson (MOD media)

Vlnr, Voorzitter KRL-Museum, Ed van Lierde, familieleden van Slamatslachtoffers, Kate Saxton en Frans Luidinga, Vice-Admiraal van de Griekse Marine, Konstatinos Mazarakis Ainian en de Britse Defence Attache, Kolonel Paul Morphet

Foto – Arend Schmale

Onderofficier, Berry leest een deel van de ramptoedracht voor ……

Foto – Arend Schmale

Onderofficier, Morris vertelt een deel van het trieste verhaal. Links van hem de Commandant van HMS Diamond, Captain Ian Clarke, daarnaast de plaatvervangend Commandant en een matroos ….
Foto- Kate Saxton

Matroos Barnes vervolgt het verhaal ……..

Foto – Arend Schmale

Het slot van het tragisch verhaal wordt verwoord door Luitenant Allen

Foto – Arend Schmale

De Commander-in-Chief van de Griekse Marine, Vice Admiraal Marazakis Ainian houdt zijn toespraak. Rechts de Griekse Lt. Commander, Konstantinos Bakas

Foto- Kate Saxton

HMS Diamond Commander, Captain Ian Clarke sluit de rij sprekers en leidt het ceremoniële gedeelte in ……….

Foto – Arend Schmale

De mannelijke bemanningsleden zetten hun uniformpet af ……

Foto- Arend Schmale

Vice Admiraal Konstatinos Mazarakis Ainian werpt de eerste bloemenkrans namens de Grieken …..

Foto- Arend Schmale

Commander Captain Ian Clarke volgt als tweede, namens de Koninklijke Britse Marine …..

Foto- Arend Schmale

Kate Saxton volgt de indrukwekkende ceremonie met ingehouden emoties ……

Foto- Arend Schmale

Frans Luidinga klaar om de bloemenkrans voor zijn vader en de andere slachtoffers aan de Middellandse Zee toe te vertrouwen ……

Foto – Arend Schmale

Als Frans zijn bloemenkrans in de Middellandse zee gooit, is emotie van zijn gezicht af te lezen.

Foto – Arend Schmale

Kate Saxton werpt haar bloemenkrans van HMS Diamond naar de 1941-Diamond ……

Foto – Arend Schmale

Kate is zichtbaar ontroerd als zij als eerste van haar familie, na 71 jaar bij het graf van haar Opa staat …….

Foto – Arend Schmale

Als laatste gooit Ed van Lierde de krans van het KRL-Museum zo dicht mogelijk bij de andere vier…..

Foto – Arend Schmale.

Kate gooit de capsule met brieven van haarzelf en haar Nieuw Zeelandse familie overboord …..

Foto – Arend Schmale

Ed van Lierde stuurt vervolgens alle namen van de 983 slachtoffers naar het HMS Diamond-graf ….

Foto – Arend Schmale

De bloemenkrans van Kate Saxton ……

Foto Kate – Saxton

De vijf kransen zoeken elkaar op!

Foto – Arend Schmale.

………………………………………………………………………………..

De vijf bloemenkransen verdwijnen in de verte, HMS Diamond vaart 'dead-slow-ahead'. Foto – Kate Saxton.

……………………………………………………………………………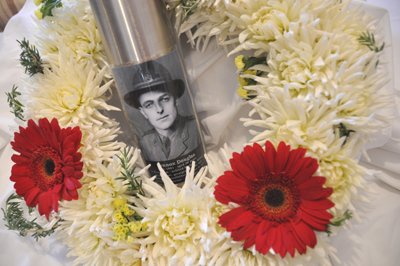 Kleindochter, Kate Saxton heeft, namens haar hele Nieuw Zeelandse familie eveneens een aluminium capsule met berichten naar beneden gestuurd. De familie heeft ons met grote dankbaarheid duidelijk gemaakt dat zij intens blij waren met deze bijzondere mogelijkheid, vooral omdat nu een kleindochter in staat was, voor het eerst, een graf van Lennox Douglas te bezoeken. Tot nu toe moest men het doen met berichten en herdenkingen, maar geen enkele 'authentieke' plek om naar toe te gaan!
Ook werd een boodschap van het KRL-Museum aan alle 983 slachtoffers gezonden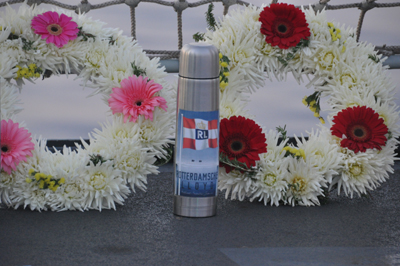 Tijdens de herdenking heeft onze voorzitter, Ed van Lierde, op de plek waar het wrak van HMS Diamond op de bodem van de Middellandse Zee ligt, namens alle familieleden van de slachtoffers en oud KRL-ers een boodschap met alle namen van de 983 slachtoffers in zee neergelaten. De, met Kreta strandzand, verzwaarde en waterdichte aluminium capsule waarin deze papieren zijn opgerold zal hopelijk haar inhoud vrij laten komen zodat alle lijsten naar de Diamond zullen 'dwarrelen' die overigens op zo'n 400 meter diepte ligt.
Opnamen voor de Slamat-documentaire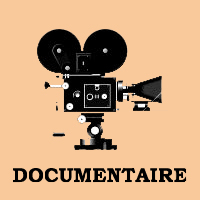 Arend Schmale en Ton Kellner zijn ook gast aan boord en zullen tijdens de herdenking op 26 juni 2012 met twee camera's opnamen aan boord van de Diamond maken. De beelden zijn bestemd voor de Slamat-Documentaire. Naast enkele beelden van de ceremonie zelf zullen bij de aftiteling van de documentaire de, langzaam op het blauwe water van de Middellandse Zee de langzaam wegdrijvende, poppy- en bloemenkransen als achtergrond dienen.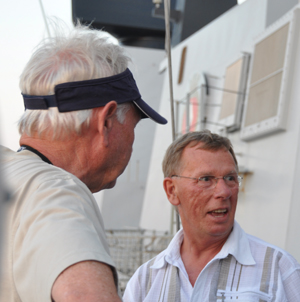 Onze filmploeg – Vlnr. Arend Schmale en Ton Kellner

In een brief aan haar Nieuw Zeelandse familie ….. vertelt kleindochter, Kate Saxton haar verhaal …..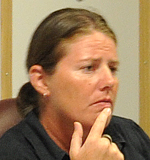 So where to start ? – maybe why I got to be part of this experience.
I finished my work in PNG in December '11 after 4 years as a contractor to a Law and Justice Program on an island called Bougainville and decided that I wouldn't renew my contract and secondly that I would take a year of travel round a few Countries. So far, starting in January, I have been in Germany, France, Switzerland, England, Scotland, Lebanon, Greece, Turkey, Jordan, Cyprus, UAE, Egypt, Israel and back to Crete in Greece for this ceremony. I am now in Macedonia having flown to Albania for a look around there and next I think will be Bulgaria and up through the Balkan States and Eastern and Central Europe hopefully ending up in Estonia in a few months time.
A few months ago my mother, Mary mentioned the possibility of Ed van Lierde (Royal Rotterdam Lloyd Museum) being invited onto the HMS Diamond as it passed through Greece on its way to deployment in the Gulf. If you look at the website of the Royal Rotterdam Lloyd Museum it goes into detail about the 70th anniversary commemoration of the sinking of the Slamat, Diamond and Wryneck held in Rotterdam last year. Invited to that commemoration last year were Ian Clarke, who was and is the Commanding Officer (Captain) of the HMS Diamond, and 7 of his crew (all were present on the ship during the ceremony).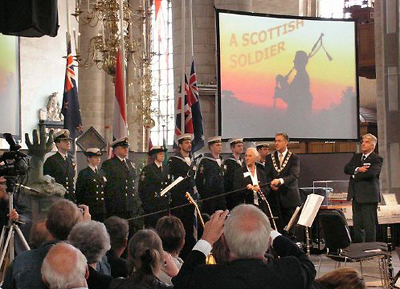 Like Ed and Frans Luidinga (son of the ss Slamat Captain also killed along with Len and 981 others) and Mary and you all and many other people, Ian was very passionate about this sinking of his ship's namesake and so in contact with Ed it was arranged to hold a memorial service over the given coordinates of the Diamond's sinking/resting place. The Wryneck is believed to be relatively close by and the Slamat some kilometres away.
So it came to be that I was nearby in the Middle East and that coincided with this ceremony (a date could never be set in concrete due to ships trials etc but it was a punt Ed and Frans and I took in booking tickets to Crete at that time hoping it would pay off). Ed managed to get an invitation for Frans Luidinga and me and he took a two man film crew to record the event. Ed and the film crew are putting a documentary together on 'Operation Demon' and this commemoration. The Film crew are Arend Schmale and Ton Kellner both from Holland. They gave of their time completely for free to do this and spent 7 days in Crete with us.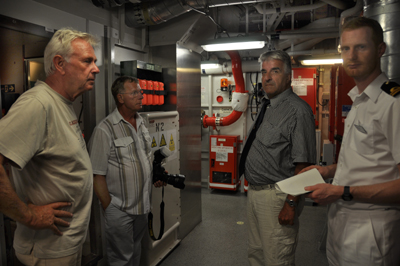 Left – Film crew: Ahrend Schmale and Ton Kellner
I had heard of Frans and Ed and all they had done prior to this ceremony but I had never met them until we all arrived in Chania, Crete, Greece on the 22nd of June. They couldn't have been more hospitable and we spent the 23rd ,24th and 25th getting things in order for the trip – expecting to leave on the 26th and overnight on the ship and return on the 27th. It turns out this was brought forward a day.

At this point can I say such a big thank you to all who sent messages either hand written or e.mailed. I received them all. Ed brought with him two thermoses. One had, as you can see by the photos, the Royal Rotterdam Lloyd logo on it and in it were placed all the names of the 983 killed on the 27th of April 1941. He also gave our family one and laminated a photo of Len and a map of New Zealand and stuck those to the outside of the thermos as you can also see in some of the photos. Inside we placed all the written words to Len that you sent as well as a NZ ANZAC poppy and a sprig of rosemary.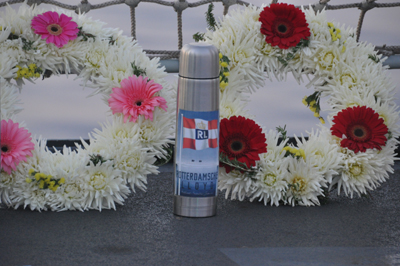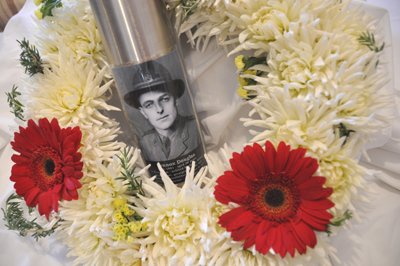 Ed, Frans and I went to the beach on the day of the 25th and filled each capsule with sand to weigh it down so it would sink where we were to throw them overboard at the site of the Diamond sinking. You can see some photos of us filling them up and how they looked.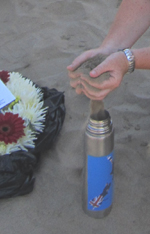 We also had three fresh flower wreaths locally made for the ceremony; one for Len and I took the liberty of making it from all of his family. On the wreath I attached two quotes. One was an extract I took from a letter Ga had written to Len, believing him to still be alive :"…your love helps me always. I love you with everything in me. Kisses from the wee girls and all my love my own dearest for always and always. You are never out of my heart and thoughts, your own Joanie". And also I attached a quote from Len in a letter he had written to Ga (from the poem that is featured in 'posted love')… "I am fighting for my King because the old traditions rouse me. I am fighting for my Country because my Country's cause is still the best cause in the world: and I am fighting for you and our children because you are my life".
The other two wreaths were for Frans' father from Frans and family and one wreath was from the Royal Rotterdam Lloyd Museum from Ed for all killed at this time.
So all five of us were picked up by a couple of the HMS Diamond crew on the afternoon of the 25th. The HMS Diamond was in port, not at Souda as we thought but at a smaller Greek Naval base about 20 minutes from Chania (If you are wondering when you get to see all the photos why there are no photos from us of the ship from port it is because filming in and around the base was prohibited). We boarded the ship and were greeted by Logistics Officer Lieutenant Commander Simon Boon and 10 minutes later by HMS Diamond Commander Captain Ian Clarke.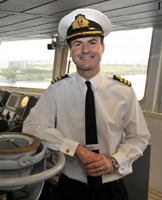 Captain Ian Clarke
Then we were shown to our cabins (we managed to get cabins of some crew away on leave) and then had afternoon tea in what is called the Officers ' Ward (their common room) where we met many of the Officers and the ship's Chaplain. Also present and flown in for the two days was a Navy reporter, who did the article in the above attached link. After our meet and greet we also were taken to Ian's cabin and had afternoon tea with him. Then it was back to the Ward Room, which became a base for us, for a bit until we sailed. At the time of sailing we were all invited up to the bridge to see the whole departure unfold – quite a sight.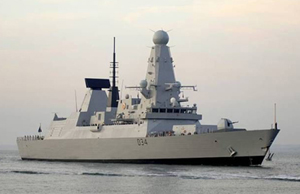 The ship left port and travelled only a short distance before dropping anchor for a few hours. While we were there, there was a short visit from the Rear Admiral of the Greek Navy – Rear Admiral Konstantinos Mazarakis-Enian and the reason for dropping anchor just out of port was to wait there until the Rear Admiral returned late that evening so he could sleep on the ship and join us for the ceremony the following morning.
After dropping anchor we all joined Ian Clarke and three of his crew members (an officer, a Petty officer and a sailor) for dinner in his cabin. Dinner was only moderately formal (thank goodness) and Ed and Frans and I all got a chance to give speeches of thanks. The other three crew members present at the dinner had all attended the ceremony in Rotterdam last year with Ian Clarke and so they knew Ed and Frans and certainly had an interest in the ceremony which made it even more special to meet them.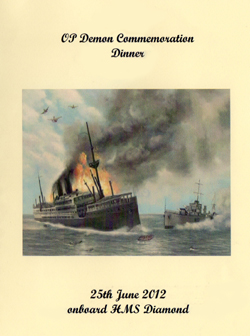 Dinner over and we all retired to the Officers Ward and then bed about midnight. During the night the ship sailed to the site of the Diamond's and Wryneck's sinking and when we woke early in the morning we were already over the site.
The ceremony was set to start at 06.00 and prior to it commencing we all went up to the bridge and took some time to reflect. The morning was so very still and the sea was as calm as it could be. We were up before sunrise so it was quite dark and eerie, almost misty – perfect really for the sombreness of the ceremony about to unfold.
I am told it doesn't always happen but for this ceremony the whole of the crew (bar those needed to keep the ship going) were present – some 200 crew all immaculately turned out. You can probably see from the photos that the ceremony took place on the rear deck of the ship (usually where the choppers land etc so plenty of room) and the crew were all lined up in formation facing to where our seating was and we were facing the Chaplain and the Commander and some of his Officers.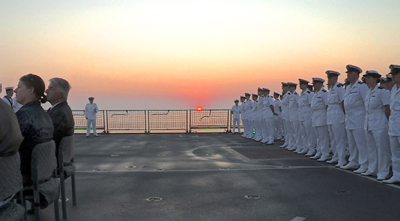 The ceremony commenced right on 06.00 and there is a copy of the programme that was put together primarily by the ship's Chaplain Andrew Corness. If you are wondering why Frans or Ed or I did not speak during the ceremony this is because they were under a tight time limit for the ceremony with the Rear Admiral from the Greek Navy having to leave the ship at 06.30.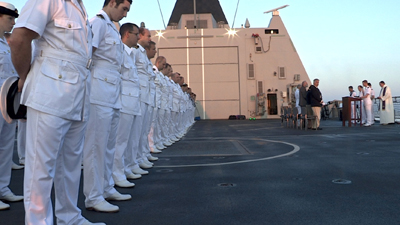 Andrew, the Chaplain did a great job of the ceremony and during it, you can see there was a time for us to lay our wreaths. Two wreaths were laid firstly by Rear Admiral Konstantinos Mazarakis-Enian and Commanding Officer Ian Clarke (They are the two red poppy wreaths you see in the photos) and then Frans, followed by me and then Ed laid our wreaths. This meant throwing them overboard to sea and despite many a concern of mine and Ed's all landed amazingly upright. If you can imagine the sun just coming up and reflecting on the water and seeing these beautiful wreaths float away it was a pretty amazing and special moment.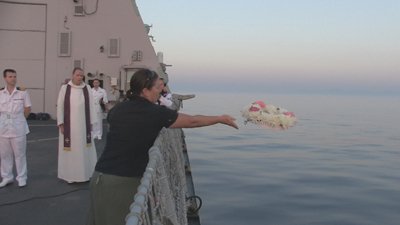 After the wreath laying Ed and I went forward together and sent our 'capsules' with all your beautiful words overboard – not without a few tears from me – it was amazing to honour Len with the wreath and your words.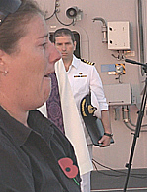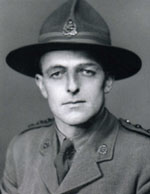 Tears of emotion for Granddad …………….. Lennox Douglas
The ceremony continued to its conclusion and by this time the sun was up and it remained the most amazing calm sea. Ed and his film crew then did an interview with Frans and I, and as I watched Frans being interviewed unbeknownst to me the ship had done a complete circle and we saw all of our wreaths floating away again which was such a special sight. It is hard to describe but it kind of represented to me that even in that small time frame our respects to Len and fellow crew would still carry on.
After the ceremony we had breakfast together and then we were treated to the most amazing and complete tour of the ship. This was great for the film crew and their footage but special for Frans who had never been on a warship and I was fascinated by the whole workings so I stuck with the film crew the whole day, including putting on overalls and going through the whole engine room etc.
I have to say I was so impressed by the hospitality and professionalism we were shown by every member of the crew we came in contact with. Every department (Engineers, Kitchen, Laundry, Officers, etc) dropped whatever they were doing to show us around their part of the ship and to explain their specific roles etc and did so with such amazing enthusiasm. Commander Clarke should certainly be very proud of all his crew and how they operated.

The great thing for me was that for the three days Frans and Ed and I had in Crete after this ceremony and even after they had left we kept seeing crew members who were lucky enough to be granted shore time and again all were fantastic then too and a few beers and coffees were had with some crew even ashore. I think as one group I caught up with said, when it comes to lives lost at sea fighting in a war they have a special respect and it means more to them than other ceremonies, and it hits home it could be them, so I think for some this ceremony was special to them too and one that will be remembered.
Once ashore Ed did not stop his tireless work for remembering the lives lost and so he spoke with a reporter from the local paper and as a result a full colour page article was written on the ceremony. He also was interviewed by the television news team. Ed and Frans also visited the local maritime museum and as a result Ed and the director of that museum will cooperate in future. He also hopes to hear from the Rear Admiral of the Greek Navy and maybe more information (footage for the Slamat/Diamond/Wryneck documentary) will come through those channels.
For me it is difficult to describe the whole week in Crete. I think the ceremony was done very professionally and with the respect and care you all would have wanted. I feel so lucky that I was in a position to attend but I feel sorry that many of you who really should have had this opportunity weren't there and above anyone I speak of Cass, Annie and Mary. I am so very proud that as a family you all expressed your thoughts and words to Len and I hope in some way that Frans' and Ed's and my being there and the laying of the wreaths and the delivering of your words goes in some way to your paying your respects to so close where it is believed Len died.
It was so very kind, and that is an understatement, of Commanding Officer Ian Clarke and his crew to facilitate this ceremony and without his and Ed's dedication to this ceremony it would surely never have happened.
I hope that you will soon have access to all the photos and documents of this time and the next thing will be a special DVD (within 2 to 3 month) with footage of this impressive commemoration, this footage will be part of the documentary but that is at least one to two years away and I understand the Royal Rotterdam Lloyd Museum hopes to release it whichever year it is completed on the 27th of April.
Lots of love to you all.
Kate xox
Wat de media er over schreven ……
De Koninklijke Britse Marine – Matthew Jackson (MOD media)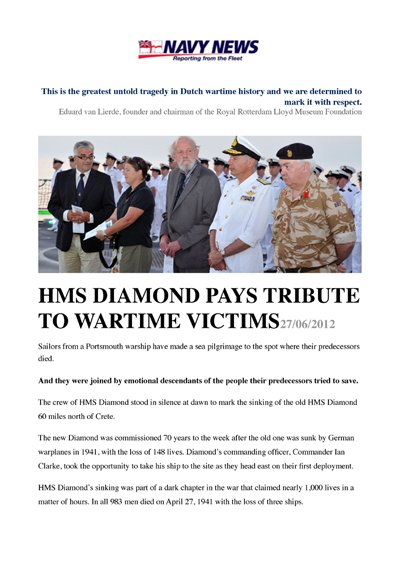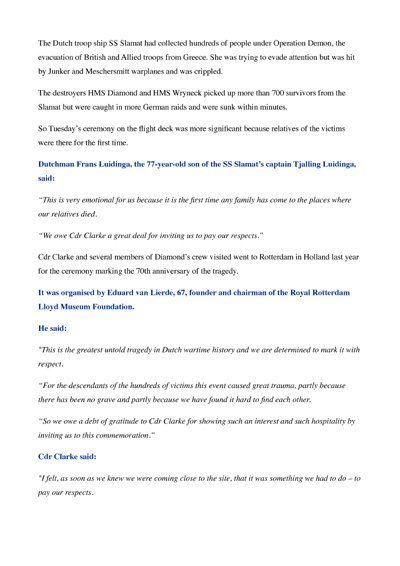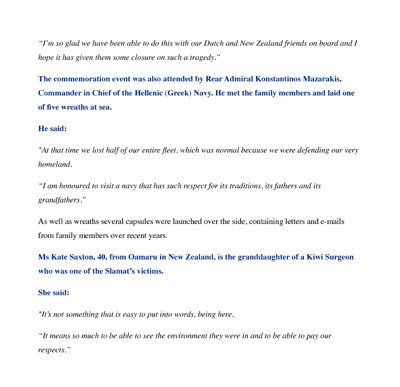 Onderstaande  vertaling is een geschenk van het management van het Danaos Hotel te Chania – Griekenland
Last Tuesday a special honor and memory event took place on board the British Royal Navy destroyer, HMS Diamond for about a thousand victims of three ships that were bombed by German planes on April 27, 1941 some 80 nautical miles, roughly, North of Crete.
The history of this tragedy
Among the countless tragic stories that happened in World War II is the disaster with the Dutch passenger ship SLAMAT, which was transformed in 1941 into trooptransporter and operated under the control of British War Department to assist in the evacuation of 60,000 soldiers of the allied forces (Australian , British and New Zealanders), an operation with the the code name "Demon"!
ss SLAMAT was part of a convoy, which came on the course! The allied soldiers and military equipment and vehicles embarked on April 27 at the port of Nafplion and headed to their final destination, Egypt. The Captain of the SLAMAT set sail at dawn rushing to avoid any engagement with the enemy!
Three hours after departure, German Stukas began their attacks! and bombed SLAMAT at first. Despite the heroic crew ss SLAMAT herself was unable to repel the attacks. Captain Luidinga ordered evacuation of the SLAMAT and both crew and allied soldiers, who had survived the bombing and fires, boarded lifeboats. The attacks by the Stukas were relentless and without pity and firing continued through even to the sinking lifeboats and rafts!
During this engagement most of convoy ships  tried to escape and British destroyer HMS DIAMOND rushed to help survivors! After an hour British destroyer HMS WRYNECK, collected many survivors. But the Stuka attacks were not finished! Two hours later the two destroyers were sunk near Cape Maleas completing the tragic with 983 dead! There were only three survivors from the crew of SLAMAT, while overall the survivors have not exceeded 40.
71 years after
The above story is described as the greatest and most tragic disaster in every respect in history of the Merchant Navy of the Netherlands. It is also noted that Mr. Ed van Lierde, founder and president of the Royal Rotterdam Lloyd Museum Foundation, is already for some years trying to avoid that this forgotten disaster will sink into oblivion! As we said van Lierde established association with relatives and descendants of victims of these three ships SLAMAT, HMS WRYNECK AND HMS DIAMOND, trying to keep the memory alive of the dead by organising various events! Thus, last Tuesday, June 26 on the exact spot where the ships sank a modest and 'full of emotion' ceremony was held on the large deck of the newly HMS DIAMOND which, according to Mr. van Lierde, caused a deep emotional impression. Greek Navy Rear Admiral Konstantinos Mazarakis Ainian did his speech by heart.
Besides Mr. van Lierde, also Mr. Frans Luidinga, son of the SLAMAT Captain and Ms. Kate Saxton granddaughter of the SLAMAT surgeon, were invited by the Commander of HMS Diamond.
Victims of the British D-class destroyer (H-22): HMS DIAMOND
DIAMOND-bemanning: 186 , slachtoffers: 166, overlevenden: 20.
SLAMATHERDENKING – 2007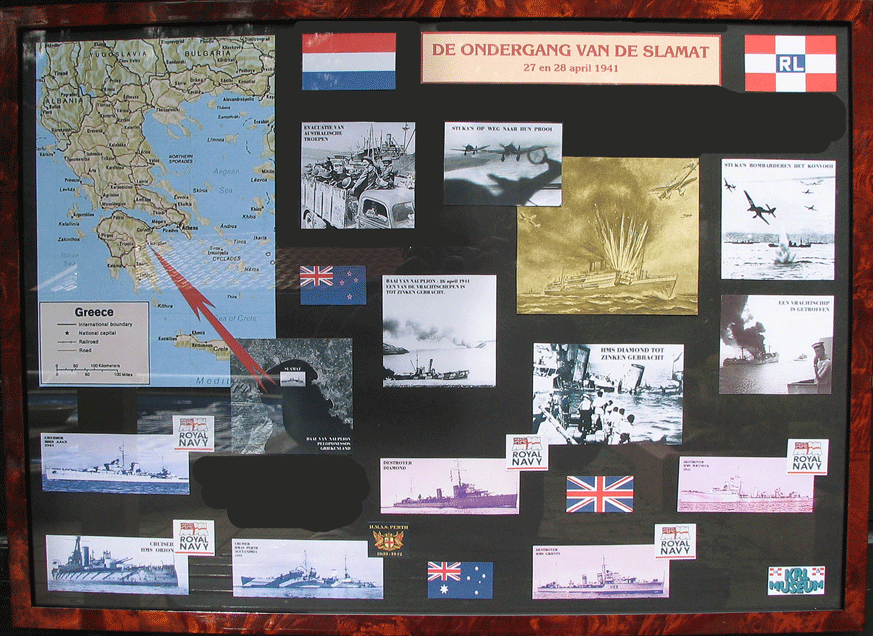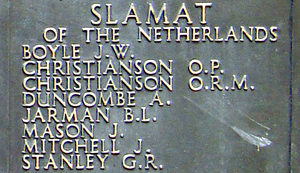 'GROTE SLAMAT/DIAMOND/WRYNECK' HERDENKING – 2011
S.V.P. aanklikken voor vergroting
Ed van Lierde en Commander Ian Clarke in een voorbereidend gesprek tijdens de 'Grote Slamat/Diamond/Wryneck herdenking'.

………………………………………………………………………………

Een korte uitleg aan de Diamondbemanning was voor hen voldoende om een fantastische performance te geven.

……………………………………………………………………………..

De Diamondbemanning had in de Laurenskerk ook haar eigen expositie

Zij vormden bij de onthulling van het monument een prachtig en indrukwekkend decor.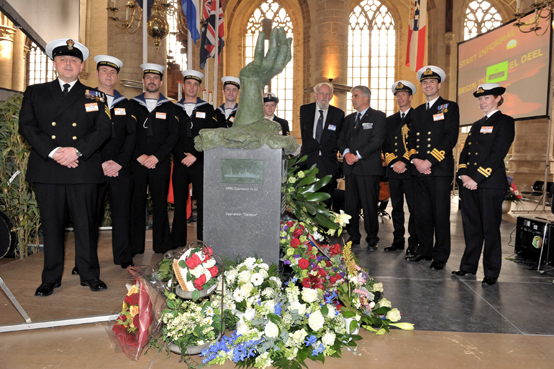 HMS Diamond crew poserend bij het, even daarvoor, onthulde Slamatmonument.
De vertegenwoordigers van de Britse Koninklijke Marine met Frans Luidinga (zoon van de Slamat Gezagvoerder, Tjalling Luidinga – 5e van rechts) en Ed van Lierde (Grondlegger en bestuursvoorzitter van het Koninklijke Rotterdamsche Lloyd Museum – 4e van rechts).
Captain Lambourn, British Defence Attaché voor de Benelux (3e van rechts),
Commander Ian Clarke Commanding Officer van het HMS Diamond (2e van rechts),
Lt. Commander Allen (1e van rechts) en verder: PO Morris, PO Berry, LS James, LET Barnes, LET Chadwick, LSC Meggeson.
Het Slamatmonument bij het Koninklijke Rotterdamsche Lloyd Museum te Oudehorne
DE NIEUWE HMS DIAMOND – 2010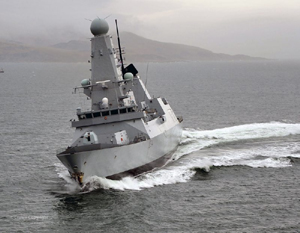 TECHNISCHE GEGEVENS
HMS Diamond maakt deel uit van een serie van 6 nieuwe Type-45 'Daring klasse' destroyers. De eerste taak van het HMS Diamond is het verdedigen van taakgroepen met inbegrip van NAVO en multi-nationale groepen tegen luchtaanvallen. Zij is uitgerust met de sterke SAMPSON-radar die in Engeland is gemaakt en een groot-bereik radar en een gevechtssysteem dat krachtig genoeg is om vliegtuigen te identificeren en classificeren van Frankfurt tot Edinburgh en dit terwijl het schip langs de kade in Wilhelmshaven ligt. Om een idee te geven van het Type-45 zelf heeft het schip ongeveer 200 bemanningsleden is 150 meter lang.
DE EERSTE COMMANDANT VAN HMS DIAMOND D-34
COMMANDER IAN B. CLARKE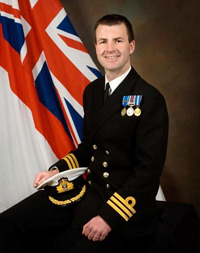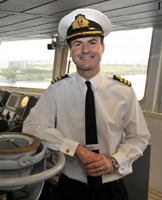 Commandant Ian B. Clarke is geboren in 1972 en groeide op in Elms Vale (Dover). De vader van twee dochters met prachtige blauwe ogen (2011) werd in 1992, na het succesvol afronden van het Britannia Koninklijk Marine College, oorlogs-officier. Hij nam, tijdens vulcanische uitbarstingen, met de destroyer HMS Newcastle deel aan de Montserrat-missie. In 2003 kwam hij aan boord van de destroyer HMS Manchester en hielp bij het onderscheppen van trans-Caraibische- drugsvaarten. In 2005 behaalde hij zijn Masters op de Universiteit van Kingston (technologie – Maritieme operaties). Commandant Clarke voerde in de periode 2007-2009 het bevel over het Offshore Patrouilleschip HMS Tyne, waarbij hij regelmatig Visserijbeschermingstaken in de Straat van Dover uitvoerde. In juni 2010 verkreeg hij het commando over de meest moderne luchtverdedigings-destroyer ter wereld, HMS Diamond. Ian B. Clarke is een verwoed zeiler en beoefent het Skiën en onderwaterduiken.
HET EERSTE BUITENLANDSE BEZOEK VAN HMS DIAMOND WILELMSHAVEN-DUITSLAND: 21 juli 2011
Het oorlogschip van de Britse Koninklijke Marine, het HMS Diamond bezocht de Duitse haven, Wilhelmshaven in de periode van 21 tot 24 juli 2011. De nieuwste aanwinst van de Britse Koninklijke Marine heeft haar basis in Portsmouth aan de Zuidkust van Engeland. Het was aanvankelijk de bedoeling als eerste buitenlandse haven, de Nederlandse Marinebasis te Den Helder aan te doen, maar ten gevolge van een gebrek aan kaderuimte aldaar moest HMS Diamond naar Duitsland uitwijken. Aldus markeerde zij als gast van de Marinebasis te Wilhelmshaven haar eerste overzeese bezoek in 'volle dienst' bij de Britse Koninklijke Marine. Gezagvoerder van de 190 koppen tellende bemanning, Commandant Ian Clarke zei: "Het is altijd een groot genoegen Duitsland en de Duitse Marine, met wie wij zulke nauwe en professionele banden hebben, te bezoeken", hij voegde daaraan toe: "Mijn team heeft sinds HMS Diamond in September 2010 de scheepswerf verliet uitzonderlijk hard gewerkt en dit bezoek is een goede manier om de indienststelling van de luchtverdedigings-destroyer te markeren".
FOTO's AANKOMST HMS DIAMOND
HMS Diamond komt rustig aanvaren

HMS Diamond meert aan in Wilhelmshaven :21 juli 2011

……………………………………………………………………………..

HMS Diamond-bemanning in diamantvorm opgesteld op het achterdek

Vijf bemanningsleden laten trots hun petband zien

……………………………………………………………………………
RECEPTIE HMS DIAMOND IN WILHELMSHAVEN – 21 juli 2011
Tijdens haar korte verblijf in Wilhelmshaven was het HMS Diamond niet open voor het publiek. Enkele uren na aankomst werd aan boord een persconferentie gehouden waarbij Commander Ian Clarke en zijn bemanning de Duitse Marine, waaronder Admiraal verwelkomde. Ook de diplomatieke vertegenwoordigers werden gebriefd over de mogelijkheden die dit nieuwe type oorlogschip aan elke multinationale militaire operatie kan bieden. Commander Clarke verwelkomende als speciale gast de heer Ed van Lierde, oprichter en bestuursvoorzitter van de Stichting Koninklijke Rotterdamsche Lloyd Museum en zijn echtgenote mevrouw Josje van Lierde-Olivier.
FOTO'S ONTVANGST
HMS Diamond Commander Ian Clarke en Ed van Lierde bij de permanente mini-expositie over de Slamatherdenking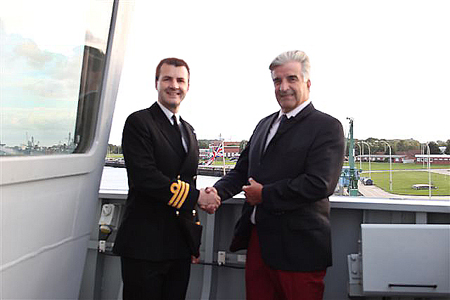 Links: Brugvleugel HMS Diamond – Een hand op toekomstige samenwerking met de Britse vlag als getuige. Rechts: Josje op de Navigatiebrug in de Commanderstoel.